Greetings
Thank you for access to our website . We soy meat , vegetarian food , is a comprehensive sales company of vegetarian food . Currently , vegetable meals are bathed beauty , nutrition , the attention from the environmental surface or the like . Therefore provision and of soy protein foods ( soy meat ) in our company , by performing the development and sales of vegetable processed food , eateries like , wholesale and retail -like , we will meet the needs of the general customers .
If you have any soybean processed food you are looking for , please contact us to our company . Fried type Among the soy meat , minced type , we offer a wide variety of types , such as shredded type . Also manufacturers , already vegetarian trade trader ( vegan ) of product handling customers , please by all means consult with our company .
Thank you for watching Green Culture WEB PAGE.
Service Info.
Sales bidder for
Vegetarian merchandise , person of ordering a size for the soy meat business , please contact us by all means to our company . So we offer a wide variety of sizes and shapes of soy meat , it is possible to pay each time to propose a soy meat that is suitable to your needs .
Since also capacity can be suggestions from a small amount , snack shop , can you purchase the required amount depending on the demand scale , such as a cafe , also restaurants .
Your private brand product development
It is possible to manufacture the company's PB brand products in vegetarian specification . We have heard various from a small package of retail to large packages for business . Soy meat of the package , retort curry , ramen , there is a manufacturing performance of seasonings , etc. , it is a wide range of possible production from room temperature to the frozen food .
Vegetarian online specialty store operation of the " Greens vegetarian mail order "
It has opened to the Internet mall Rakuten and Yahoo! Shopping . Processed soybean products , vegetarian food , organic food , etc. , we offer a wealth of products of which you can use in everyday life . Here in the stores we have with the main sales of retail package, but we also made ​​the sale of some commercial products .↓Greens to vegetarian Shopping Rakuten shops
How to deal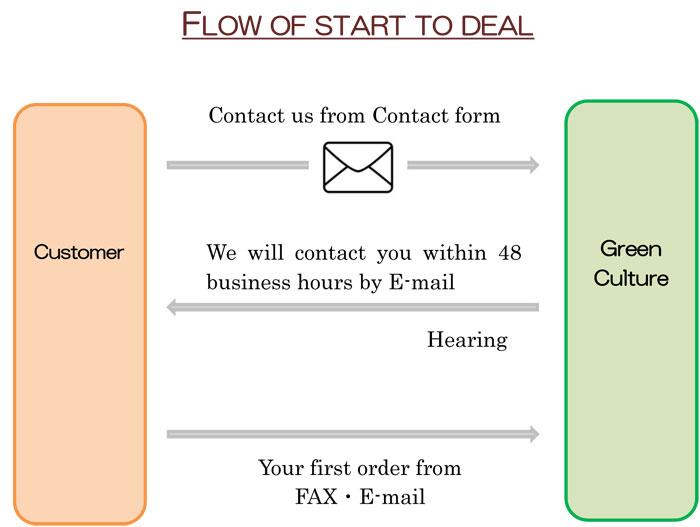 In our company we sell vegetarian processed foods business bidder for . Your dealings hope in new ,Inquiry formPlease give me more contact us.
<Flow of dealings>
Specific items of your choice (or commodity of hope image ) received your contact than form , we will then present the quote will be to the contents confirmation by phone or e-mail from our company . Price of the commodity , lot , postage , also regard to details of the dealings conditions , the case will be announced separately .
Contact Us
If you would like to deal with our product, contact us with no hesitation.
Contact here >>
Company Info.
Company Name
Green Culture, Inc.
Director
Representative Director : Satoshi Kaneda
General Counsel
Lawyer: Kohki Otsuka
Tax Counsel
Tax Counsellor: Masami Arai
Head Office
4-5-25, Higashishinkoiwa, Katsushika-ku, Tokyo, 124-0023, Japan
Logistics base
Green Culture Distribution Center,2-480-2, Takano, Misato-shi, Saitama, 341-0035, Japan
Contact Information
TEL:048-960-0426(Weekday9:30-17:30)
FAX:048-960-0427
E-mail:info@greenculture.co.jp
Business Overview
soy meat , vegetable processed food , retail and wholesale selling vegetarian food planning and development natural food , pet food , etc. import and sale of vegetarian specialty food
Product Line
soy meat , soy meat , soy processed food , vegetable curry , organic food , natural seasoning
Capital
\10 million
Main Bank
Sumitomo Mitsui Banking Corporation
RAKUTEN BANK LTD
Main Client
内閣府・内閣官房食堂
福島県古殿町役場
株式会社風と光
伊藤忠食品株式会社
オーサワジャパン株式会社
楽天株式会社
Join Organizations

Japan Association of New Economy